WPS Whey Protein Isolate 5 lbs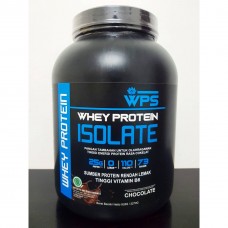 Merek:
WPS Nutrition
Kode Produk:
WPS Whey Protein Isolate 5 lbs
Ketersediaan:
Tersedia
Harga: Rp. 745.000

100% WHEY PROTEIN ISOLATE
25g of Whey Protein Isolate to Support Lean Muscle Growth and Recovery.
HIGHLIGHT
WPS ISOLATE adalah protein dengan formula yang kami kembangkan selama bertahun-tahun. Begitu orang mencobanya, mereka langsung ketagihan. Whey protein isolate ultra-premiumnya yang unik dan seimbang secara alami selalu memenuhi kebutuhan otot Anda, dan memuaskan nafsu makan Anda, selama berjam-jam. WPS ISOLATE ideal untuk berbagai aplikasi dan waktu penggunaan misalnya sarapan, pasca-latihan, camilan malam hari, dll.

MANFAAT :
*Mendukung Pembentukan & Pertumbuhan Otot
*Mempercepat Pemulihan
*Membantu Membakar Lemak.
WPS ISOLATE membantu membakar lemak adalah manfaat sekunder dari sekedar melengkapi diet Anda dengan protein berkualitas tinggi.
Bagaimana WPS ISOLATE bekerja ?
Protein meningkatkan rasa kenyang, mengurangi kecenderungan Anda untuk makan berlebihan. Protein mendorong termogenesis, proses alami di mana tubuh Anda membakar kalori dalam bentuk panas. Peningkatan thermogenesis melindungi dari penambahan lemak.
Mengapa orang menyukai WPS ISOLATE ?
Rasa Coklat yang lezat, terlebih disajikan dengan air dingin , rasanya dapat memuaskan selera , dan rasa yang lembut membuatnya enak untuk disantap.
AMAN UNTUK LAMBUNG :
Mudah dicerna. Lebih sedikit kemungkinan gas atau kembung.Memberikan dukungan pembentukan otot selama berjam-jam
TIPS SUKSES :
Sebagai aturan standar, ambil sekitar 1 sendok takar untuk setiap 25kg berat badan, setiap hari.